In this rather different article, I'll share my Ezoic review. My story will show you how Ezoic is helping me to keep creating free content on Santuário Lunar and on some other places. There's no magic involved in this case, so you can put your cauldron beside you while you read this. Nevertheless, this is a great article for my reviews category because it can help you to write about Witchcraft, Paganism and other things alike too.
If you own a blog, consider joining Ezoic too. Your blog can become a great source of income and you can even become a full-time publisher if you deploy consistent work and content creation. In the next paragraphs, I'll explain everything I learned over these years, how you can also join Ezoic, what you have to do, and some extra things I'm sure you won't find anywhere else.
Let's go?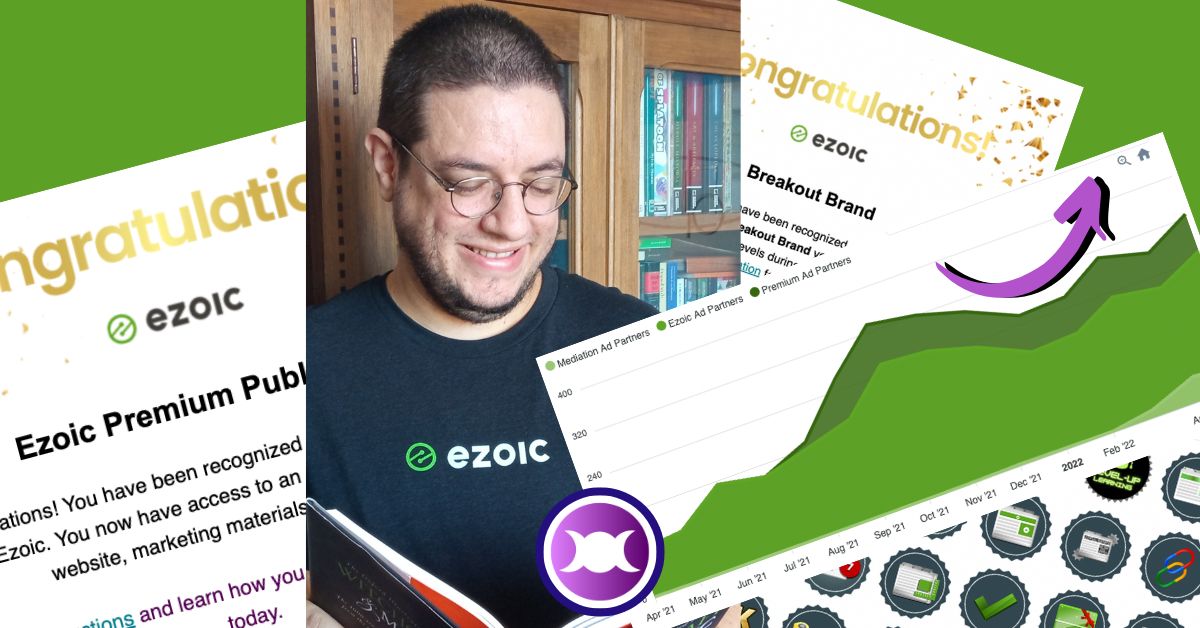 What is Ezoic?
When you join Ezoic you have a personal account manager that helps you to set up the account and other things. In one of the first emails I received from him, he wrote the following sentence:
Just to give you a quick summary: Ezoic is a layer of machine learning that lives between your Ads and readers. The technology uses AI to curate the exact Ad compositions (size, color, location, quantity, etc.) that resonate best with each unique visitor.

My former account manager, Oscar
I guess this really summarizes it all. When you create content online, you can serve ads on them. This way, whenever a person interacts with these ads, you get a share of what the company behind the ads is investing to be there. And Ezoic acts as an IA which chooses the best ads, best places, and everything else. "Simple" like that!
Back in 2014. when I published my first article for Santuário Lunar (by that time it was only in Brazilian Portuguese), I could never imagine I would make money from it. With time, someone suggested serving ads through Google Adsense. And I did that. Soon I was making $1 a month (believe me, I was really excited about that! Unfortunately, I can't get those reports anymore. Google Adsense limits back to 2019 only).
It was only in April 2020 that I first heard of Ezoic in a WordPress forum. Someone wrote there that Ezoic was a "next step" of monetizing online content and everyone should move from Adsense to it, as Ezoic is a Certified Google Partner. So I did it. And I'm still with Ezoic until today – and I seriously don't plan on leaving it.
So, in even simpler words than those Oscar told me, Ezoic is the "next step" you need to make money online.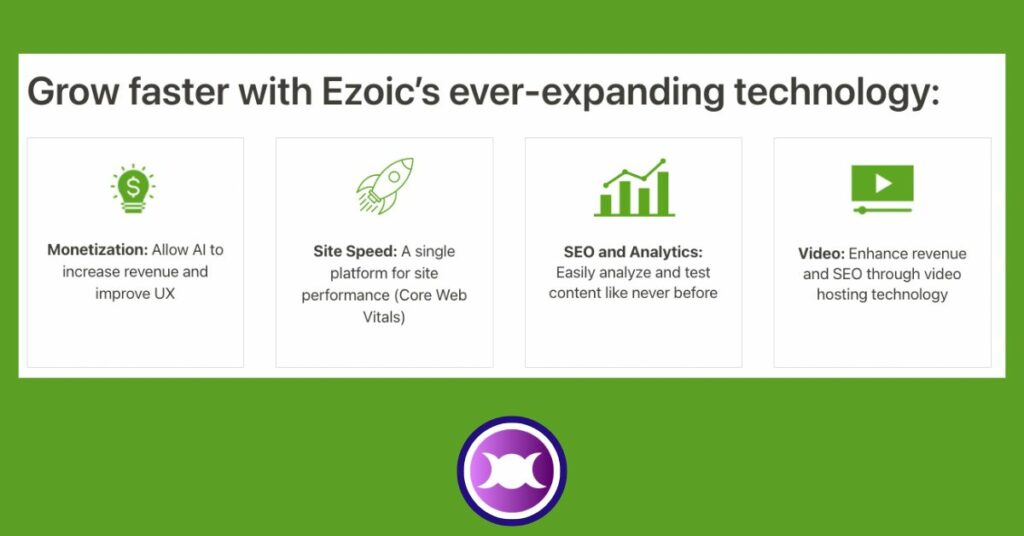 Ezoic Dashboard
In the Ezoic Dashboard, you have quick access to all its features.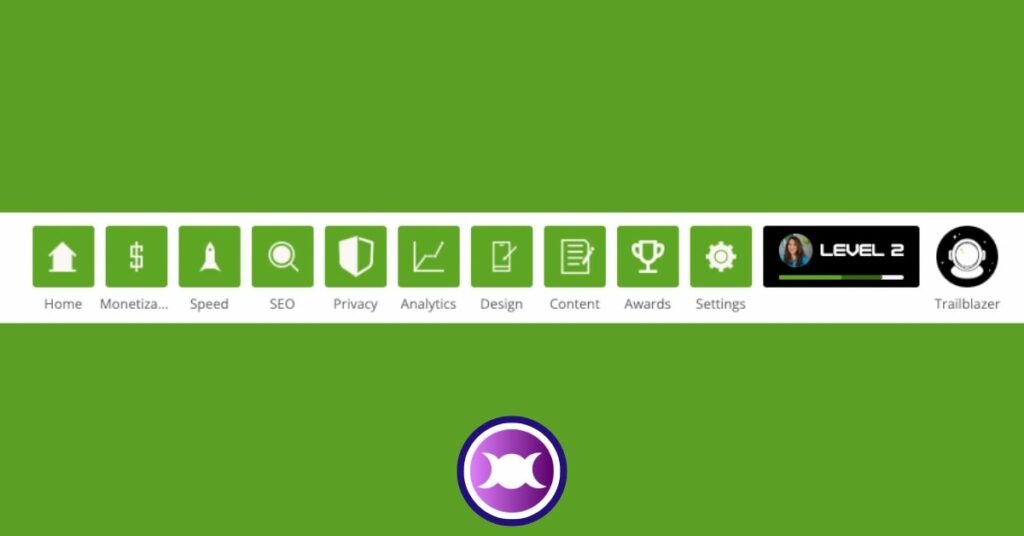 Home: Check your earnings, visits and Core Web Vitals for a single domain or all of them together;
Monetization: Configure monetization features such as types of ads, placeholders, and many other things;
Speed: Configure LEAP and pass the Core Web Vitals scores (no magic involved!);
Video: Import from YouTube or upload your videos for monetization (I love it!);
SEO: Configure Ezoic Tag Tester for better rankings;
Privacy: Configure SSL, privacy policy and etc;
Analytics: Also known as BDI (Big Data Analytics), check every type of data you can imagine (and the ones you can't even imagine too! Using the BDA I discovered that articles under the Spells and Witchcraft category make much more money than those in the Goddesses category);
Design: Configure things such as PWA, AMP, and others (I used AMP in the past, after LEAP arrived, I abandoned it);
Content: The best thing under Content is the "Objectionable Content". It lists pages and words you may consider replacing. You can also set an icon, description, and the colors of your website here.
Awards: The awards you have received so far and the ones you can receive too!
Settings: How much of the traffic will go through Ezoic? It's possible to control! SSL, Cloudflare integration, WordPress Hosting, and many more options!
Levels: I love this one. It shows your current level, the requirements to level up, your Publisher Success Manager (hi, Raquel!), and your achievements;
Trailblazer: Beta products and services. I don't know if it's available to everyone, but I'll write the details below (and they are incredible).
What are Ezoic requirements?
Ezoic requirements changed some time ago. By the time I joined them, one should have at least 10k visits per month on a website domain. You would make your application, they would analyze it, and your domain would be approved or not.
Now, Ezoic has abandoned this 10k threshold. So anyone with a website with quality content may apply! Ezoic even offers whole support for those who are starting now and it's called Access Now. So if you have a website, you publish your own content and you intend to make money from it, apply for Ezoic now!
Yes, the link above is an affiliate link. Ezoic even thought about that. While they grow, they also share this growth with us, publishers. If you apply through my link, Ezoic will share 3% of the earnings you make with me. And they won't deduct this from you!
Keep in mind they are always reviewing the domains they work with. Therefore, never fall into the online traps of buying backlinks, using scrapped content, or writing low-quality ones. Keep doing the good work!
How to join Ezoic?
It's very simple! You can join Ezoic by using my link below.
If you have less than 10k visitors monthly, you'll enter a course on Access Now and the team will help you to set up your account. If you have more than 10k visitors monthly, you'll be assigned a level. And that's when things get even more interesting (more on this below)!
Easy like that, isn't it?
To configure Ezoic you can use their WordPress Plugin and follow the instructions your account manager will give you. It's easy, I assure you. I won't go into the deepest details on my Ezoic review because it may have already changed a bit. If you have any doubts, your account manager will offer you all the support you need!
Now, let's talk about payments and the money you can make with Ezoic. There are some things you should know, mainly if you live in South America like me or in some other countries.
How much can you make with Ezoic?
The amount of money you can make with Ezoic depends on many different factors. The two most important ones, for me, are:
Audience location: If 1000 people access a specific page from your website from the USA and 1000 people from Brazil access the same page, you'll clearly see the difference in earnings. Ads in USA are more expensive than in Brazil, let's put it like this. As a consequence, the share in the USA is higher.
Website niche: Websites about technology tend to make more money from ads than websites about spirituality (like mine).
So I can't exactly answer how much money can you make with Ezoic. But I can assure you you'll make much more with Ezoic than with AdSense. And I really mean it!
Is Ezoic better than AdSense?
Yes, Ezoic is much better than AdSense. And I can prove it! What's an Ezoic review if there are no graphics showing the figures?
As I mentioned above, I started blogging in 2014. Until today I only blog when I have some free time. It's not my job (yet). From 2015 to 2020 I monetized Santuário Lunar with Adsense. At the beginning of May 2020, there was a Google Core Update that dramatically reduced my traffic. It was an update that hammered sites with "thin content". And yes, I had a lot of thin pages that I hired a person to write.
In short, by that time I had around 100 pages. I wrote 50 of them and the others were written for me. Too bad! (There are good writers for hire, I have nothing against them. This was my bad experience only).
Anyway. Why am I telling this? Because I joined Ezoic RIGHT IN MAY 2020! Surprisingly, I made MORE money with Ezoic having much less traffic than I had with AdSense. Imagine if I had continued with that traffic with Ezoic!
I was more than happy! I finally saw an opportunity to produce more content – something I love doing – and be able to pay some bills from it!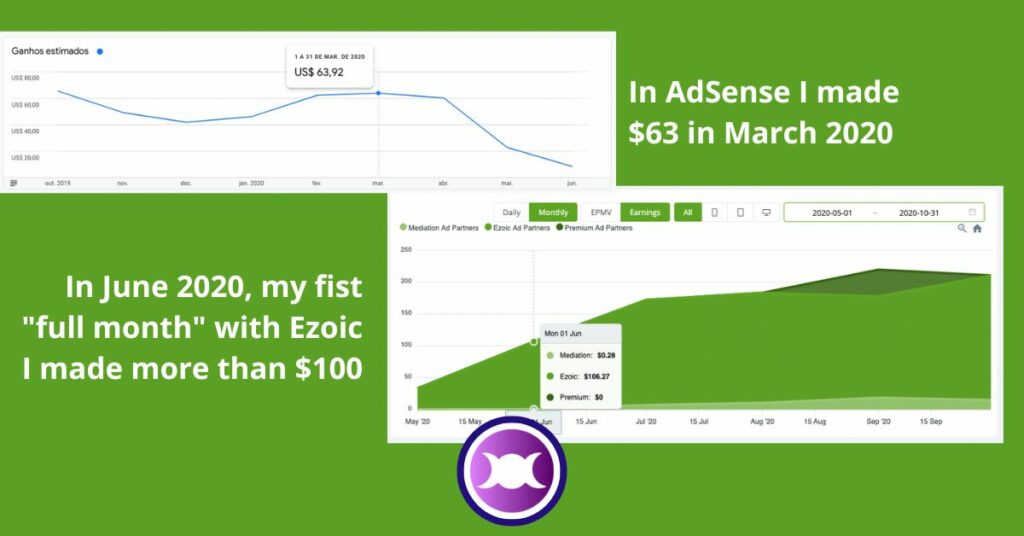 Ezoic without AdSense: is it possible?
Yes. It's possible to join Ezoic without AdSense. But I recommend implementing AdSense alongside Ezoic. Actually, this was a recommendation I had from my Publisher Success Manager, Raquel. We had a meeting some weeks ago and she noticed only one of my websites had earnings from Mediation.
What is mediation, you ask?
Ezoic allows you to have ads on your website from other companies. I haven't tried any other but AdSense. So if you set up Google AdSense AND Ezoic, you'll see on your Ezoic reports some money from "Mediation". It's shown there, on Ezoic, but it'll be paid from the partner, AdSense in this case.
Recently, there were some changes to Google MCM (Multiple Customer Management). I can't explain it very well, but out of the blue, I started having earnings from AdSense through Mediation again! When this happens, Ezoic chooses the best paying ad to appear on your page. If it's Ezoic, then it's ok. If it's AdSense, then the money appears as mediation and enters your AdSense account (you can create one with a Gmail).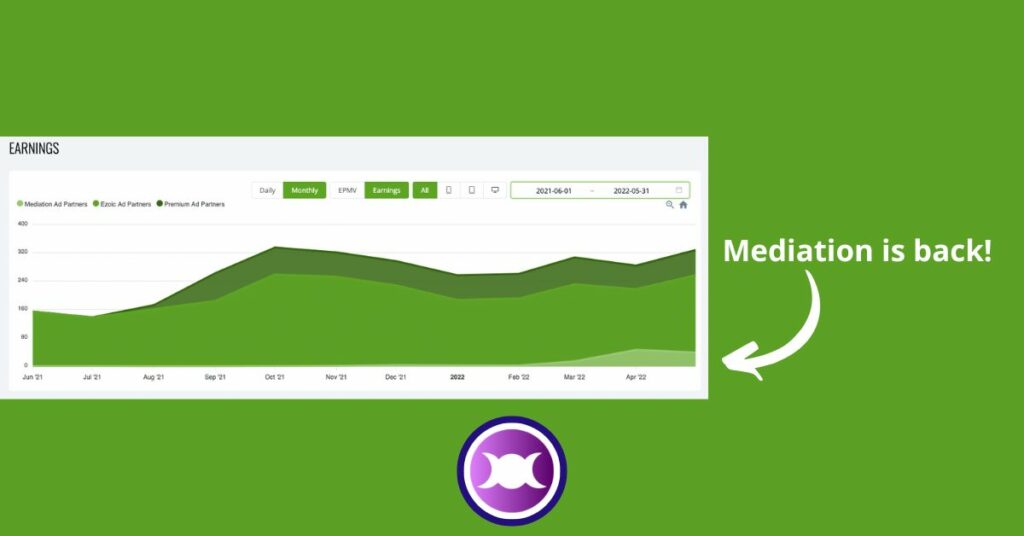 Ezoic Competitors: Ezoic vs Mediavine vs Adthrive
There's something really important I must say in this Ezoic review. I never used AdThrive or Mediavine before and there's a reason for me to stick to Ezoic as far as my websites grow.
I told you at the beginning that I'm not a full-time publisher. Blogging is not my job. I work with marketing (traditional marketing). One of the things I value the most in a relationship between a company and its customers is how well the customers are treated. I personally treat mine really well. I'm always there listening to them and helping them to solve their problems.
And I found this on Ezoic.
In the beginning, I made lots of mistakes, I deleted placeholders, I changed subdomains, SSL things… and every single time I had a problem I wrote my Account Manager, Oscar. And he helped me immediately. Today Raquel is my Publisher Success Manager and she also helps me whenever I need her. Once I lost a webinar and she made a call to personally tell me all its contents.
More than that, there's also Ezoic Support. When I rarely face bugs or things I can't understand, I go and write them. It's really fast!
Besides all of this, there are 2 Facebook groups I'm in, but they are private groups, so I don't know if I can share them here (I can't remember how I entered there, but they are run by the Ezoic team!). In these groups, there are lots of other publishers sharing their experiences and also some people from Ezoic sharing news and updates.
These things make a lot of difference. So I have no intention of moving away from Ezoic.
"Oh, but you can earn more on xxxxxx". I see. But I'm happy here. If I have no problems to solve, there are people I can count on and I'm getting results, why would I change it? I strongly believe in the sentence "never change a winning team".
Ezoic Relationship: Levels and Grants
Ezoic really invests in their relationship with us, publishers. At the end of last year, Ezoic created the New Year Revolution. There were a series of new things, including:
Levels system;
Classes on Discord;
Contests;
Grants;
Awards.
I go through each one of them now:
What are Ezoic Levels?
Ezoic Levels is something I really enjoy. It's a gamification thing. When you are in a specific level, you can see how many visits and how much money you need to earn in order to level up. Like a real-life RPG.
When they started the levels system I was Level 1. For someone who produces only during their free time, Level 1 is nice. But then we feel like we need to go up. It's like an internal competition. So I remember I went berserk and I optimized a bunch of old articles. They all recovered their rankings and I leveled up to Ezoic Level 2!
But what do you get from Levels?
You get access to some extra stuff and more money. This page explains it better.
Classes on Discord
Another very interesting thing Ezoic made was their Discord channel with classes. There are webinars, case studies, and much more. You can always learn more from more experienced users!
Contests
I entered a contest they made called EzoicCustomerWeek and I was the "grand prize winner". I won a $500 Amazon Gift Card.
Other publishers also won different prizes. It was possible to enter via Twitter or Discord! I hope more contests are on the way (I'm addicted to contests).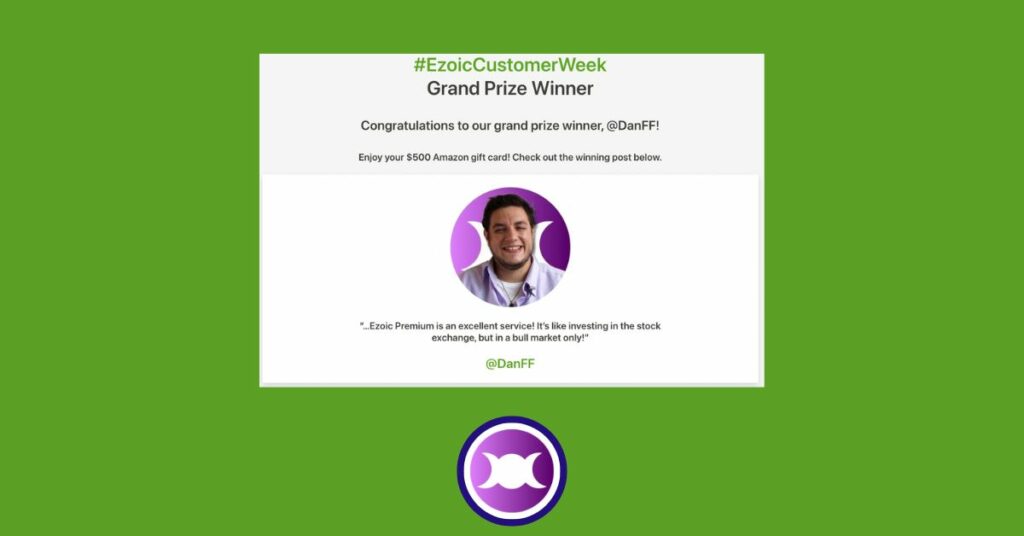 Grants
From the Levels system implementation on, their IA pointed out some users with growing websites and sent some emails with "grant applications". Grants are divided through levels and users may receive different grants depending on their level. I applied to receive grants 2 or 3 times, but I haven't won them (yet!). A know a woman who got a Macbook to continue producing her content!
Awards
To conclude the New Year Revolution, Ezoic awarded many publishers in different categories and considered many different types of rules. Tony O'Neill, the owner of simplifygardening.com, won the Publisher of the Year award and got $5,000 as prize!
Most of the winners were selected by the AI. I didn't think I would make it but I actually won an award too! I was one of the "Community Top Performer" winners! I was in Dan Richardson's community!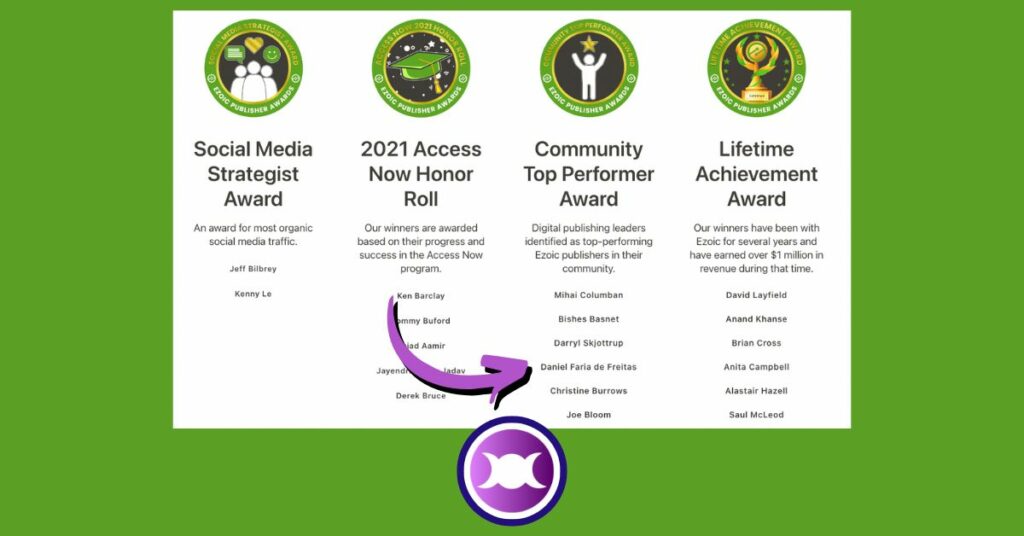 Thanks to this, I won an extra 50% of my January earnings AND an Ezoic t-shirt. Today I wear this t-shirt as my lucky charm.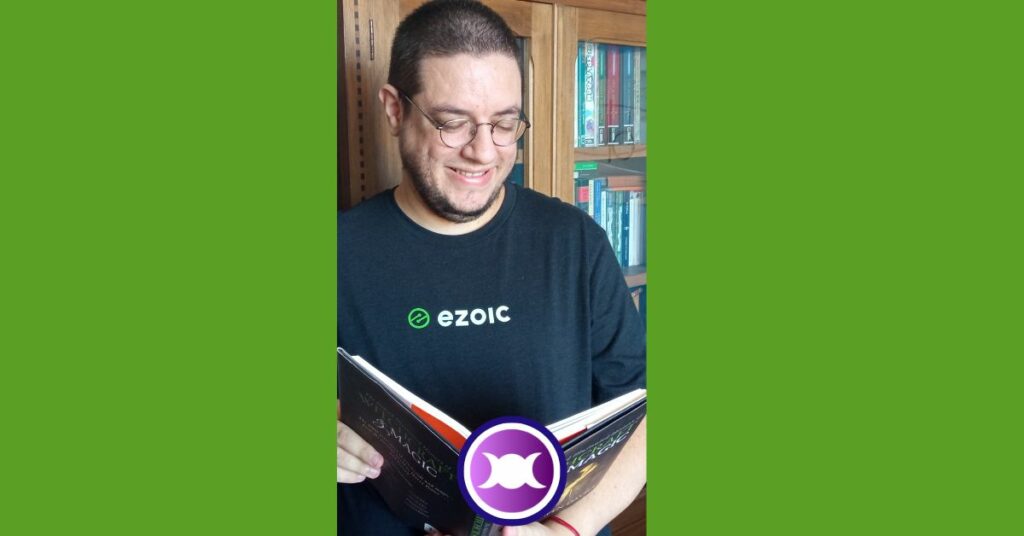 How to receive payments from Ezoic?
Now comes the "money part" of my Ezoic review. Ezoic offers lots of payment settings. You can receive your balance in different ways:
Paypal;
Bank Transfer
Payoneer Account
Check (USA and Canada only)
Wise.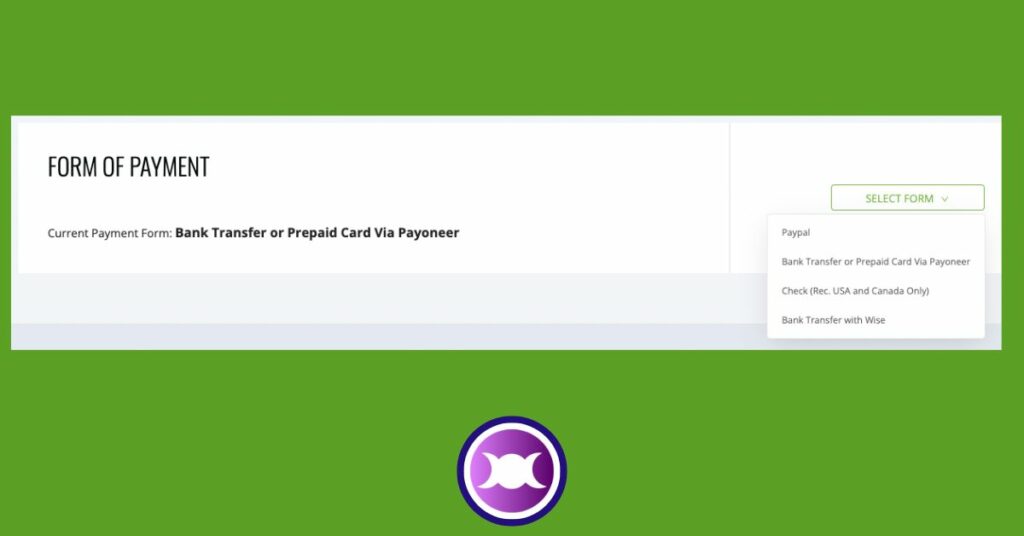 From May 2020 until today, I've been using Payoneer to receive my Ezoic payments. They pay me around the 27th day every month. In just 2 to 3 business days, I can withdraw my money to a local bank account in Brazil.
Another good thing about Ezoic and Payoneer together is that we can use the Payoneer Debit Card to pay for Ezoic Premium (more about Premium below!). However, this card costs $30 per year. And I personally think it's A LOT, but it's way cheaper than paying with a Brazilian credit card which is subject to conversion rates + a billion of taxes.
Recently, Ezoic announced a partnership with Wise (TransferWise). I'm considering moving to Wise soon. I suppose the Wise card can also be used to pay for Premium fees. However, I talked to my account manager some weeks ago and I made a contract with Ezoic. From this month on, they will charge the Premium balance from my earnings on Ezoic. So I definitely don't need the Payoneer card anymore.
For now, I continue receiving money through my Payoneer account. If/when I go to Wise I update it here.
Ezoic Premium – What is this exactly?
Well, to put it in simple words:
"Ezoic Premium is an excellent service! It's like investing in the stock exchange, but in a bull market only!"

I said this myself on Twitter
Today for @ezoic #EzoicCustomerWeek I'd like to share this print. The day I received the Premium invitation. Just a few months after entering Ezoic for the first time! 💚

Ezoic Premium is an excellent service! It's like investing in the stock exchange, but in a bull market only! pic.twitter.com/r4LDXqrtHa

— DanFF 💎 (@DanFF) September 15, 2021
My Ezoic review wouldn't be complete if Premium was absent from it. Ezoic Premium is really like an investment. You pay to access it and, in exchange, the so-called Premium ads will be displayed on your website. To keep it profitable, you must keep your website alive. You must keep publishing, optimizing, and working on it.
Much better than the stock market, actually. The only one who will make sure the profits are good is you. If you abandon your website and the visits start to drop, Premium will be a bad choice. If you keep doing the good work, you'll always have profits!
Anyway, if you're hit by a Google Core Update or if something bad happens to your websites, Ezoic IA will automatically reduce your Premium tier. In other words, it's a win-win situation!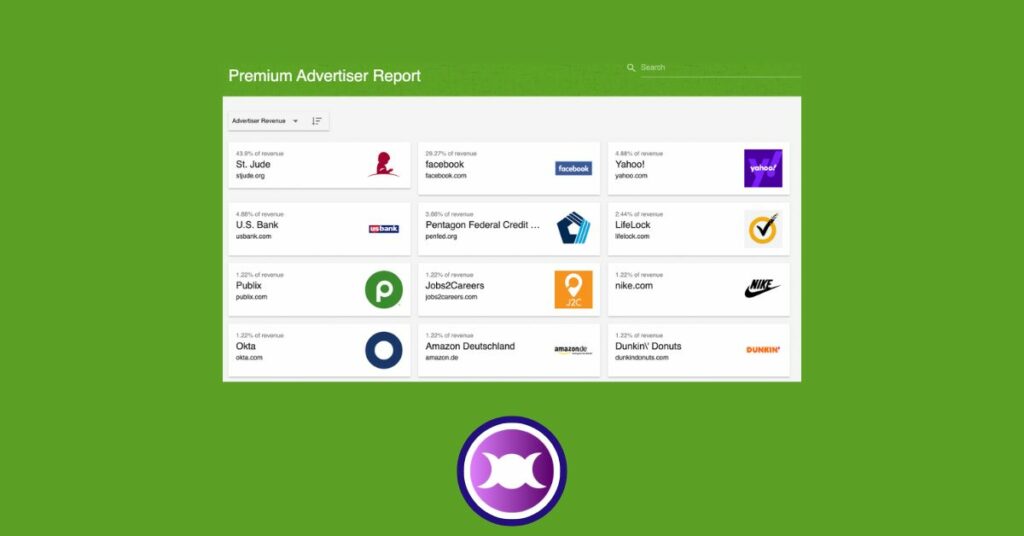 About Premium payments
As I mentioned above, you must pay to join Ezoic Premium. You can pay for the service with a credit card. As I live in Brazil, using my credit card was not a viable option. The taxes here for international purchases are absurd! I would simply lose all my profits, even if I made 100% profit (no joking!).
That's when a Payoneer pre-paid card comes as an option. Ezoic Premium accepts it as a method of payment. It costs $30 yearly, which I consider expensive but cheaper than Brazilian taxes.
So if you can't use your own credit card, consider the Payoneer one. You may also check whether Ezoic is accepting Wise cards as they recently announced they can pay you through Wise.
Ezoic Benefits – Everything you can use to improve your website
Besides earning more money through Ezoic, there are lots of benefits you'll have access to – FOR FREE. From now on, I'll write about these benefits in my Ezoic review. They are:
Ezoic LEAP – technology to pass Core Web Vitals;
Tag tester – technology to improve SEO;
Video – this is special for me, lots of details you won't find anywhere else.
These technologies work together to improve your website performance and consequently improve your rankings and earnings.
Ezoic LEAP – Boost your site speed and pass Core Web Vitals
If you started blogging now, you probably don't know the chaos that surfaced on the web some time ago. Site speed used to be a way to prove your site had a good speed. Only that. One day Google announced site speed would be considered a ranking factor. That's when the problems started – as well as the solutions.
Google created something called Core Web Vitals. This "thing" assesses your website using 3 different metrics:
LCP: Largest Content Paint: The time it takes for the largest image or piece of content to appear for the user;
FID: First Input Delay: The time it takes for the first interaction between the user and the website;
CLS: Cumulative Layout Shift: The layout stability of your page.
It seems easy to fix these things, but it's not. Or it wasn't easy back in the day.
Today, with Ezoic LEAP all you need to do is to follow their instructions. And you'll have something like this: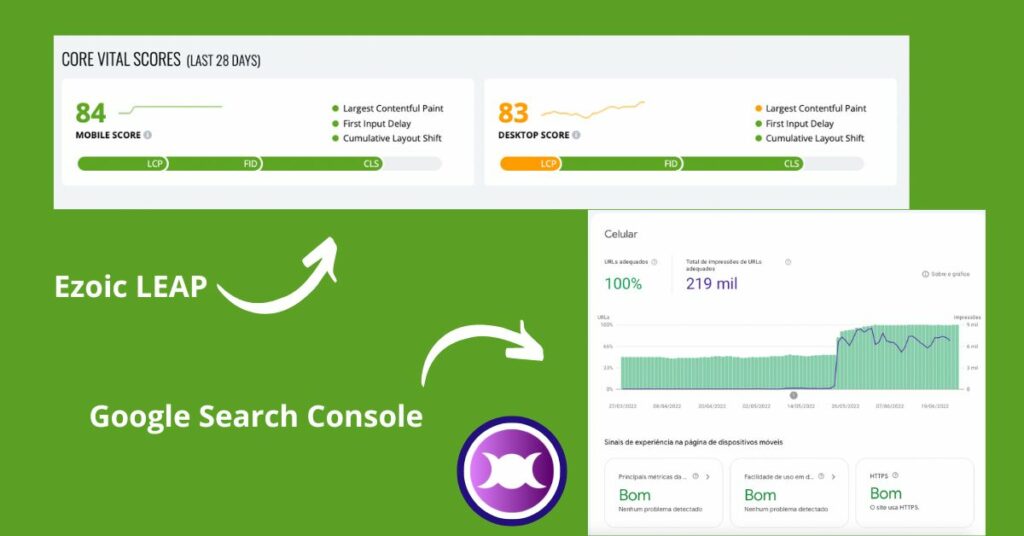 I confess I still have some things to update and let go of. Ezoic LEAP offers ALL the recommendations you need and you can test them until you have a great result.
As a bonus, this is not related to LEAP, but it affects the layout. You can actually choose the number of ads Ezoic displays. You can even disable ads per page and some other settings under the Monetization tab. Under "Settings" you can automatically change your optimization goals:
Balanced;
Revenue Focused (great for the end of the year);
User Experience Focused;
Custom Settings.
Ezoic Tag Tester – Improve your SEO
Have you heard of A-B testing? It's when you test 2 different variations of something and discover which one performs better.
There are countless services offering this for SEO. And they are not cheap. With Ezoic Tag Tester you can implement these tests for free!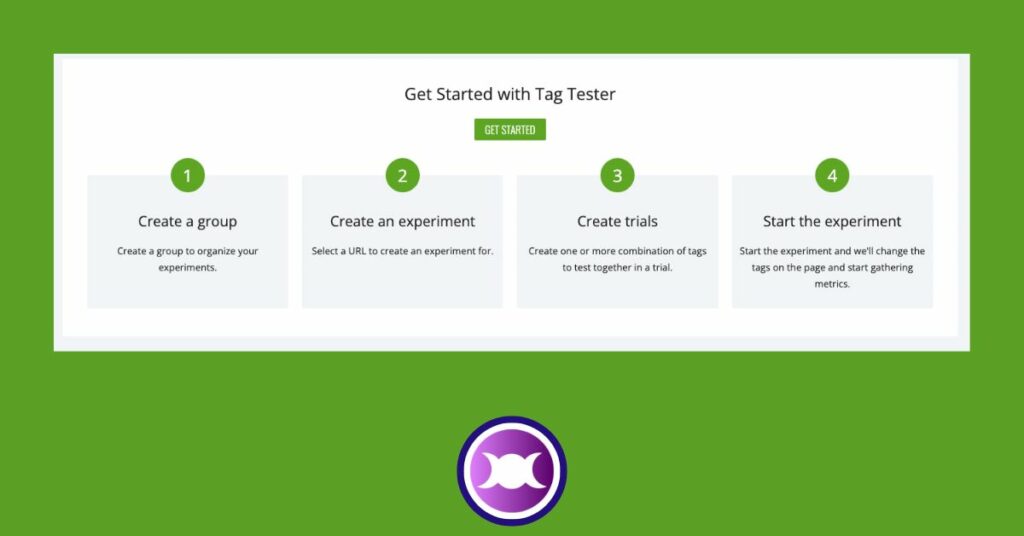 You basically write different titles and descriptions for your pages and Ezoic Tag Tester will do the rest. It will show the different versions to users and calculate the one that performs better.
Once again, just like everything I'm writing about Ezoic, it's simple like that.
Ezoic Video – The best network
Ezoic video is something I'm really surprised about. As a Youtube creator, I had lots of ups and downs there (mostly downs). I have more than 40k subscribers and so far Youtube recommended only ONE video of mine for a very short period. Most of the views and subscribers are there because of organic search, external links (from this website), or suggested videos.
There are many videos I recorded that are simply dead there. People want NEW videos all the time, even if the content is fresh. I simply can't record enough videos.
Ezoic video changes that.
I imported all my videos to Ezoic and they play on my pages. Naturally. And of course, they monetize too!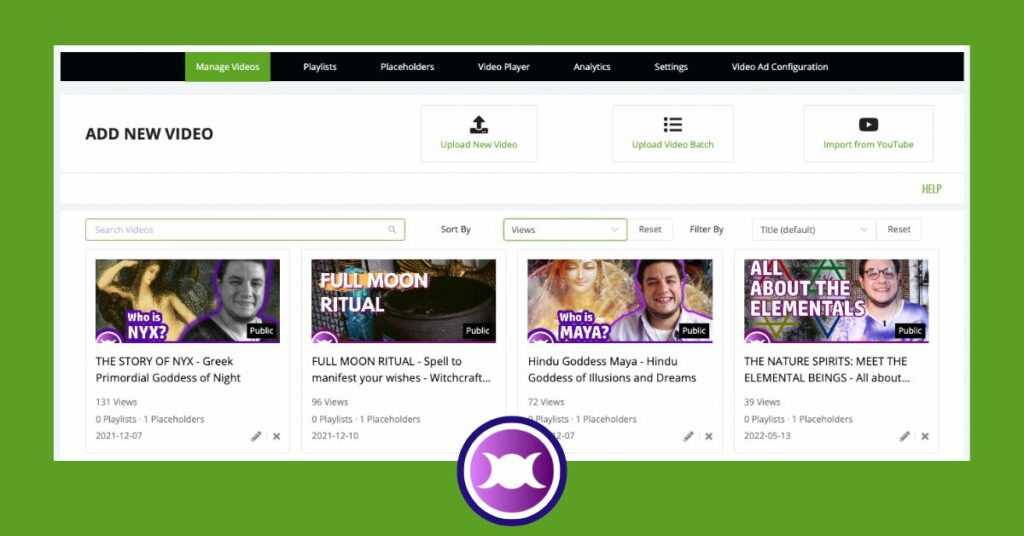 Now the best part: Humix.
Humix is a video network currently in Alpha. As an Ezoic user, I was invited to test new features using the Trailblazer program. I decided to write about it in my Ezoic review because it is really incredible.
If you visit My Humix Video page, you'll find all my videos there! And this page is on my domain! They are not external anymore.
Something I'm in love with Humix is the "sharing" option. My videos can be played on other domains just like other people's videos can be played here on my domain! This is something incredible!
My "dead videos" on YouTube are being watched on Humix. So if you visit a website that offers content on my niche, you can probably watch a video of mine there!
Isn't it the best thing?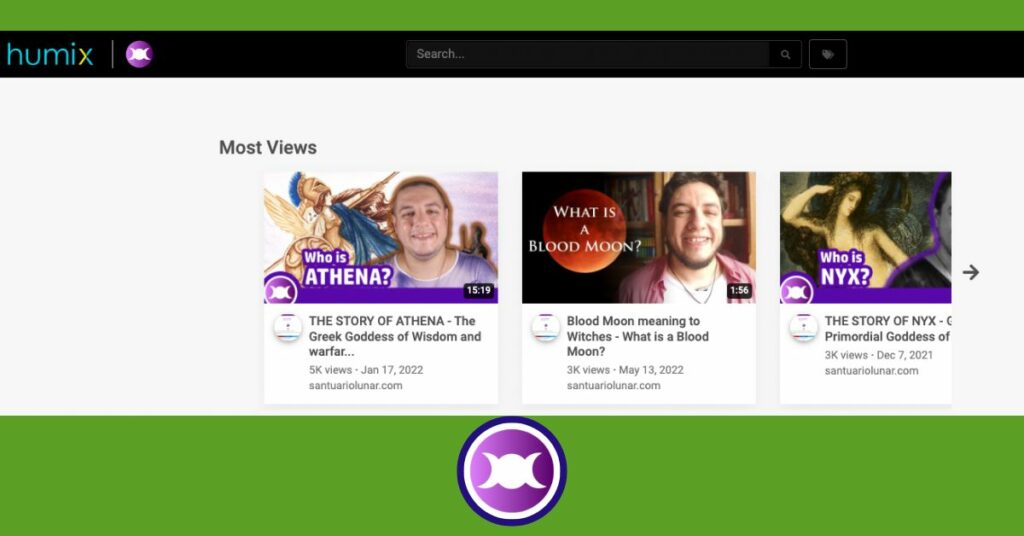 Conclusion
This Ezoic review shows my personal story with Ezoic. I'd like to reinforce that I'm not a full-time publisher and I'm still working on my websites when I have some free time. So I praise each one of these achievements!
If you are a blogger or intend to make money online, don't hesitate and join Ezoic. For me it's a life-changer. I didn't write about the pandemic, national crisis in Brazil, and some other things that happened lately, but the money I make with Ezoic has helped me A LOT in these difficult moments.
Use my link and you'll also support my journey here! As I explained, Ezoic will pay me 3% over your earnings and they won't deduct anything from you.
I wish you success!