Do you know those hanging photo mobiles? I do not particularly like photos, so one day I kept looking at one of those mobiles and I thought, "Why not hang stones and crystals?" In this post, I will show and teach you how to assemble your mobile of stones and crystals, an example of Pagan craft!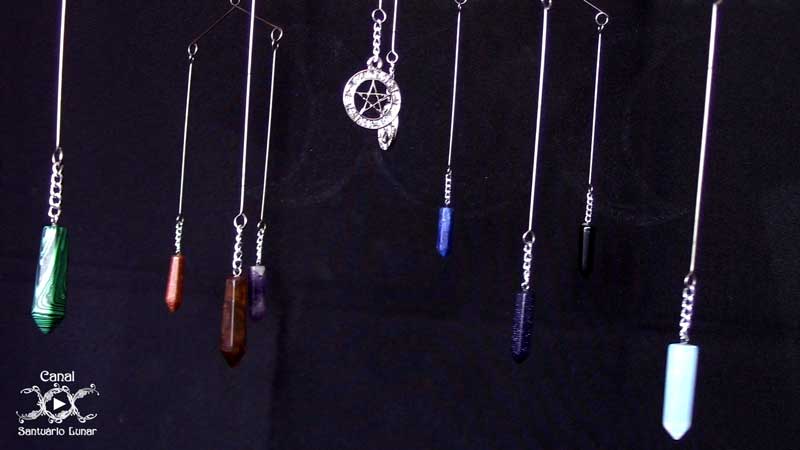 You can watch de video below or keep reading this post:
Pagan Craft – Items Needed for the Stone and Crystals Mobile
To make this Pagan craft you are going to need some items. You can find them at local stores or online. If you purchase them through our links, you'll help the website to grow 😀
This hanging photo mobile can be bought at gift shops, online or you can also make one! There are several DIY tutorials for making photo mobiles. If you do, make a good one because you will hang stones and crystals and not paper photos!
This chain you can find in stores which sell craft material. You can also find online. I chose the silver one.
8x Stones and Crystals of your choice
You can use the stones and crystals you want. The first time I made this mobile I used small pieces, I glued and put the chain. Now I decided to give an "update" and I did with these "pendants". I found the tips already prepared with the ring to make pendants. Here are some options for you to purchase online:
24pcs just like the ones I found here: https://amzn.to/2N1njWR
Hexagonal Pile Gemstone Crystal (8pcs and bigger) https://amzn.to/2IkRUh2
Hexagonal Chakra Crystal Bullet Shape (12pcs) https://amzn.to/2DuV57e
Hexagonal Healing Pointed Crystal (15pcs with a different handwork) https://amzn.to/2xGfHnM
2x Symbols of your choice
Use the symbols you want! You can find them at jewellery stores, online or you can make them. Here are some online options: https://amzn.to/2N4znq3
Use jewellery pliers to handle the chain rings without damaging them. You can find them in stores or online: https://amzn.to/2Iij3RU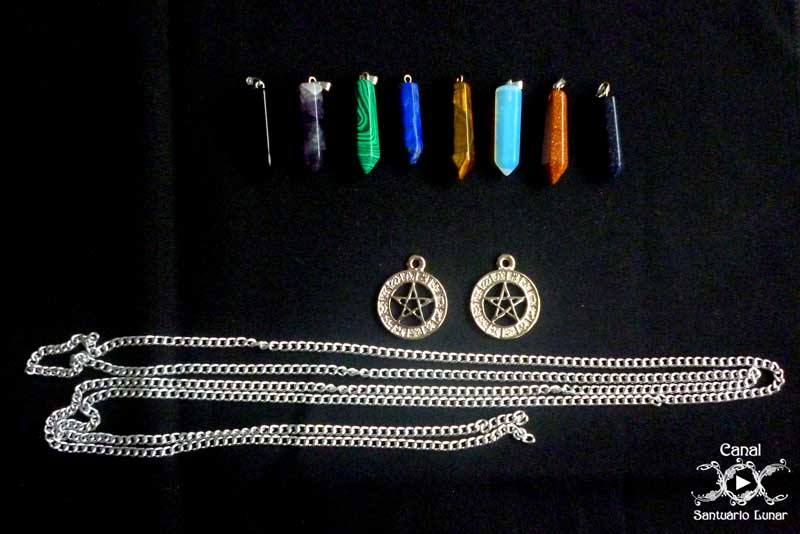 Pagan Craft – How to Make the Stone and Crystals Mobile – Step by Step
Now follow this step by step guide:
How to make the Stones and Crystals Mobile
Total Time:
Buy / Make the frame of a photo mobile
If your Mobile Photo was purchased, it will probably come with those clips to put the photos. I removed them, it got much better without them. You can leave them if you want. Again, if you are going to make one, make one that will hold a little weight;
Separate the amount you will use from the chain
Take the chain and, using the pliers, separate 10 pieces with 5 rings each. If you want longer or shorter, you can do. However, 5 rings look very beautiful;
Attach stones and crystals to the chains
Using the pliers again, open the first ring of each of the 10 pieces and place in the ring of the stone or crystal. If you are going  to use small stones, glue one of those "semi-rings" on the piece and then pass a thin ring on it to mend with this chain here;
Attach the symbols to the chains
Do the same with the symbols;
Attach everything to each end of the mobile
Now open the other end of the chain and attach it to the mobile. The 8 stones and crystals are "around" everything and the two symbols go in the centre.
Hang the mobile with a line or chain
Hang the mobile using a line or the chain so that it has movement with the wind.
Finnish!
Now you have your crystal and stone mobile!
Pagan Craft – Conclusion
So this is the hint of how to reuse (or create for the first time) a mobile of photos and turn it into a mobile of stones and crystals! It is an example of Pagan craft to make magic even more present in the home.
Do you intend to make it? Have you done it already? Do you have any suggestions for modifying / improving the final result? Leave a comment!
Below is an image for you to keep in your Pinterest folders!